INTBAU Pakistan has been an active member of our network since it was established as an independent chapter in 2017. Its chair, Yasmeen Lari, is Pakistan's first female architect and CEO of the Heritage Foundation of Pakistan. She is the driving force behind this productive partnership which has culminated in Pakistan's hosting of this November's events. The workshops and conference will be held from 14th to 18th November 2019, and will have the very topical focus of green sustainable architecture. The final programme for the conference is available here.
The Heritage Foundation (HF) is a not-for-profit organisation which Yasmeen established along with her husband in 1980 to safeguard Pakistan's heritage. HF does inspiring and important work with marginalised communities in the Sindh province through a wide range of initiatives that primarily use architecture to bring about social justice. These include the conservation of monuments and heritage sites across the area. Indeed, HF's primary goal is to educate and rebuild a knowledge base in the traditional building crafts. Over the years, HF has fostered a local culture of understanding rooted in conservation principles. It also prioritises sustainability and the use of natural materials such as mud, lime mortar, bamboo and clay.
Through practical workshops, HF provides training for a varied cross section of Pakistani society, particularly targeting the more vulnerable youth and young women in the area. One such workshop focuses on the production of ceramic tiles or kashi, while others focus on natural disaster preparedness and recovery, such as the building of earthquake-resilient houses from bamboo, earth and thatch, which means that they are also carbon neutral. This particular construction method has been pioneered by Yasmeen Lari and these buildings have thus been named 'Lari Octa-Green' dwellings, referencing their octagonal shape.
2019 Workshops & Conference
Events in the congress will begin in Makli, a UNESCO World Heritage Site. Inscribed in the World Heritage List in 1981, this 10km area includes 75 above ground structures, 402 platforms, and over 500,000 tombs from the 14th to 18th Centuries. The Makli Necropolis, on the ridge of Makli Hill, is adjacent to the town of Thatta, the historic capital of lower Sindh. Surrounded by this extraordinary selection of heritage assets, participants of the conference will be staying in the very structures about which they will be taught: the specially-built bamboo accommodation at the Heritage Foundation of Pakistan's Zero Carbon Cultural Centre (ZC3). Participants will also have an evening tour of the necropolis.
Initially, the programme will have a global focus. On 15th November, INTBAU's international network of chapters will run a series of talks about their efforts to promote and maintain vernacular building traditions across the globe. Following this, on 16th November, local craftspeople will lead workshops and demonstrations in the 'Barefoot Products Cluster'. These workshops will cover a wide range of skills and practices pioneered by the Foundation. These range from a demonstration on the construction of bamboo panels, the fabrication of benches, doors and windows and techniques for tying and bolting, to the construction methodology of traditional chulahs. Chulahs are outdoor smokeless stoves built in lime and unique to Pakistan. Through Yasmeen's initiative, the design requirements have been reviewed and improved. In the case of these stoves, chimneys have been added to reduce the harm that smoke emissions cause to women and young children. 40,000 revised Pakistani chulahs have so far improved the health and lives of 300,000 citizens. Making these stoves more permanent structures is also more sustainable as prior to Yasmeen's intervention they were prone to being washed away in floods.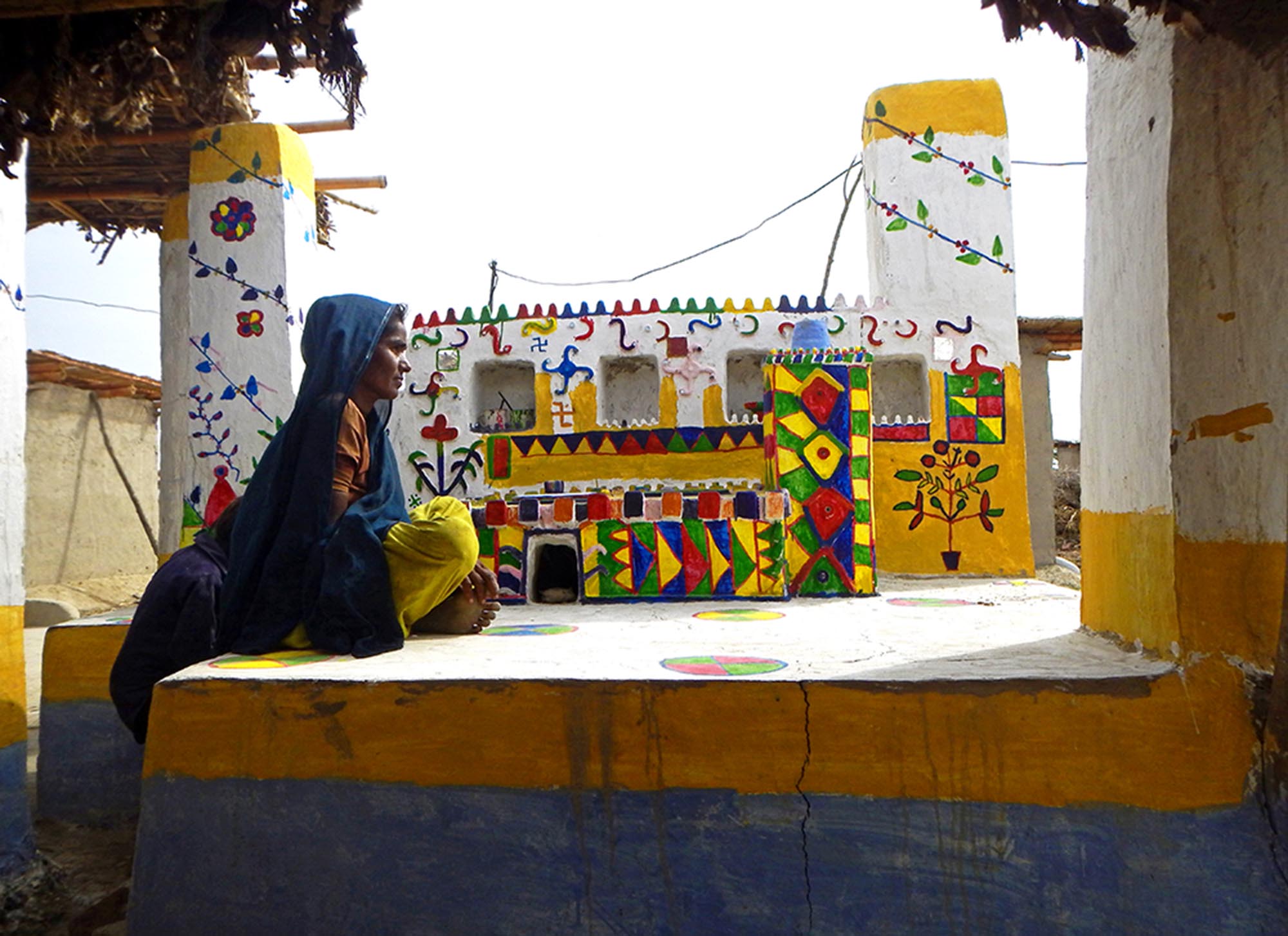 A resident sitting on her traditional Pakistani Chula
Technical demonstrations in thatching and the creation of ceramic tiles or kashi are also on the agenda in this 'Barefoot Products Cluster.' Further attention will be given to those interested in understanding the work that has been done through the Foundation's revising of planting schemes in Pakistani kitchen gardens. A technique called 'miracle earth mixing' and the use of bamboo boxes are just some of the improvements which have been introduced in an effort to improve food security.
Crucially, an important feature of the conference will be to recognise Yasmeen and her work with chulah communities through the presentation of a World Habitat Award. Following this, on 17th November, participants will relocate to Karachi, where they will enjoy an exhibition of Pakistani and Malaysian colonial architecture and an accompanying series of talks. This is to be linked to the global launch the Commonwealth Heritage Forum – a new membership organisation for the promotion of conservation-led regeneration across Commonwealth countries. Participants will help to clean the façade of Denso Hall, which dates from 1886 and forms part of a new heritage trail through Karachi's Old Town Quarters.
Check back for further updates, photos, articles and interviews as November approaches.