Professor Claudio d'Amato Guerrieri
Born 22 December 1944 (Rome) Died 6 August 2019 (Bari)
Professor Claudio d'Amato Guerrieri, long a member of the INTBAU College of Traditional Practitioners, was the first international figure to contact INTBAU in 2000, when we were researching whether it would be possible to set up an international network for traditional building arts. He also hosted INTBAU's first committee meeting outside London, in September 2001 at the Politecnic of Bari.
Born in December 1944 in Rome, Claudio graduated in architecture at the University of Rome La Sapienza in 1971 and in 1974 he obtained from the same university the Diploma in the study and restoration of monuments. After a long period working in Rome, he moved to Reggio Calabria in 1987 to work as Director of the Institute of Design in the Faculty of Architecture. With the establishment of the new Polytechnic of Bari in 1990, Claudio moved to the new Apulian university as full Professor of Architectural and Urban Composition and was appointed first Dean of the Faculty of Architecture. Later he was also President of Degree Courses in Architecture and Industrial Design. As Founder of the Politecnico di Bari School of Architecture, he completed his career as Director of the Department of Civil Engineering and Architecture (DICAR) in 2015, where he ran courses in architectural composition, architectural and urban composition, architectural design, planning urban, architecture theory and contemporary architecture history.
Claudio was instrumental in advancing research on the historic knowledge of stone-cutting and three-dimensional setting out, which he successful combined with the capabilities of computer-aided modelling to develop the computer aided manufacture of natural stone. Using advanced three-axis milling techniques, the technology was able to produce an impeccable Doric capital modelled on those at the Temple of Appollo Epicurius at Bassai, suitable for restoration purposes by the early 2000s, and later, expanded into a huge range of demonstration projects. D'Amato had been interested in studying the late 17th century art of stereotomy, or three-dimensional stone cutting, which reached its apogee in this period, with astonishing virtuoso works in France and Italy, including self-supporting flat stone ceilings and spiral stairs, pendant vaults and the like. In reviving the art of stone cutting using three-dimensional computer aided manufacture, Claudio brought an entire exhibition on stone to the 2006 Venice Biennale, Citta di Pietra (Cities of Stone). A highlight of the exhibition was a 12 metre high obelisk, erected in the grounds of the Arsenale in Venice, and a vaulted entrance arch using a system of self-supporting identical pieces without mortar or adhesive that was a breathtaking display of the technology he had helped to develop, and which had formed the basis of his competition entry for a new footbridge in Venice, eventually won by Santiago Calatrava. Further, Claudio helping INTBAU find a venue for our 2006 conference The Venice Charter Revisited held at the Teatro Piccolo Arsenale in November 2006, which produced the book of the same name in 2009/11.
Beyond his outstanding skill, knowledge and the ability to inspire innovative student work, Claudio brought huge warmth, enthusiasm, and a joie de vivre to meetings, conferences and events organised by INTBAU. His infectious humour, great sense of welcome and bonhomie will be greatly missed, even as his contributions to the growth of INTBAU's network are remembered long after his passing.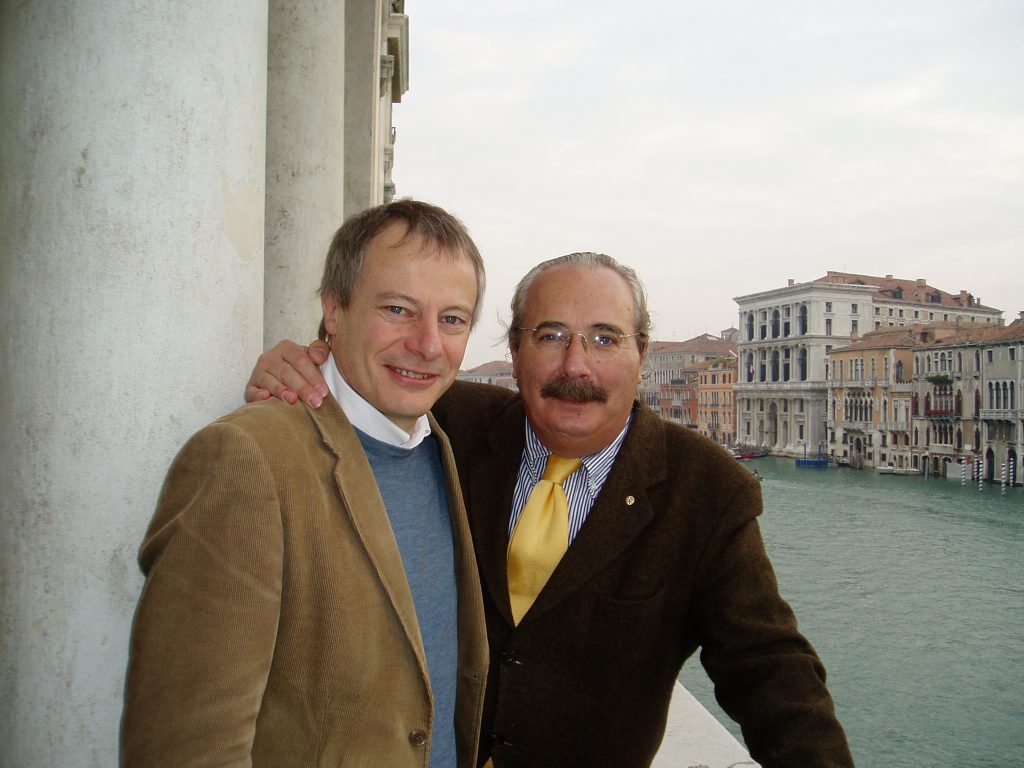 A last interview with Claudio on his last book, by his long-term friend collaborator Prof. Attilio Petruccioli.