Written by Emma Anderson, INTBAU Projects & Communications Intern, 2018
---
The 2018 INTBAU World Congress, entitled 'Everything Old is New Again,' was held on 27-28 November in London, and November met us at the door with a cold chill pushing attendees from tube stations to the front step of the Royal Society of Arts. Known colloquially as the RSA, it was the home of this year's Congress, located in the heart of London's West End. Everything—from the bespoke chandelier in the Benjamin Franklin room, to the Georgian architecture, to the 1783 James Barry paintings in the Great Room—came together to create the perfect setting.
The goal of the Congress was to explore what appears to be a resurgence in the use of natural materials and traditional forms for buildings and places. Read more about the Congress themes and title here: Click Here
Day 1
SESSION 1: CONTEXTS
Coffee was brewed, name-badges were distributed, coats were checked, and hands were shook. A warm chatter filled the Benjamin Franklin room and, as 9:00 approached, flowed out of the room and up the stairs to the Great Room. The first of three, the Contexts session began, preceded by opening remarks from Harriet Wennberg, INTBAU Executive Director. Karen Parolek of Opticos Design, based in Berkeley, California, opened up the day with a presentation on Missing Middle Housing. The term 'Missing Middle Housing,' coined by Opticos Design, is a concept that highlights the need for diverse, affordable housing choices in sustainable, walkable places. She told an anecdote in which they were working with a community about housing density. The clients were against high density—but when asked what type of housing they preferred, they pointed Opticos in the direction of some courtyard apartments. As it turned out, the building itself had nearly triple the density the client had initially set as a maximum for future projects. In Parolek's words, this was when she realized that they needed to reframe the conversation about housing away from 'density' and 'multifamily' to character and place. Karen placed the audience in the middle of a conversation that encompasses housing, quality urbanism, affordability, density, character, and scale. In a day and age when housing and urbanisation are at the forefront of conversations across governments and communities, it was the perfect place to begin. As the cliché goes, home is where the heart is.
Following Krupali Uplekar Krusche's presentation on rapid urbanisation, Jia-Ping Lee and Duncan Cave from Think City—a Malaysian organisation aiming to change the way cities are planned, developed, and celebrated—spoke about how urban regeneration interventions are shaped by social context. Their work is focused primarily in George Town, Penang which received its UNESCO World Heritage Site Inscription in 2008. Projects in Penang focus on celebrating cultural diversity and a re-discovery of Penang's place in history through restoration, arts, culture, heritage, and community involvement. One initiative created a Network of Heritage Interpretation Centres focused on assisting visitors and locals in understanding the history of George Town, why it is listed by UNESCO, and how the town's living and built heritage are inseparable. The specificity of their projects, still impressive in their scope across various regions, combined with the community involvement make for an organisation with tremendous heart. It reminds one that home is where we sleep, but also where we walk, where we come together, and in what we remember.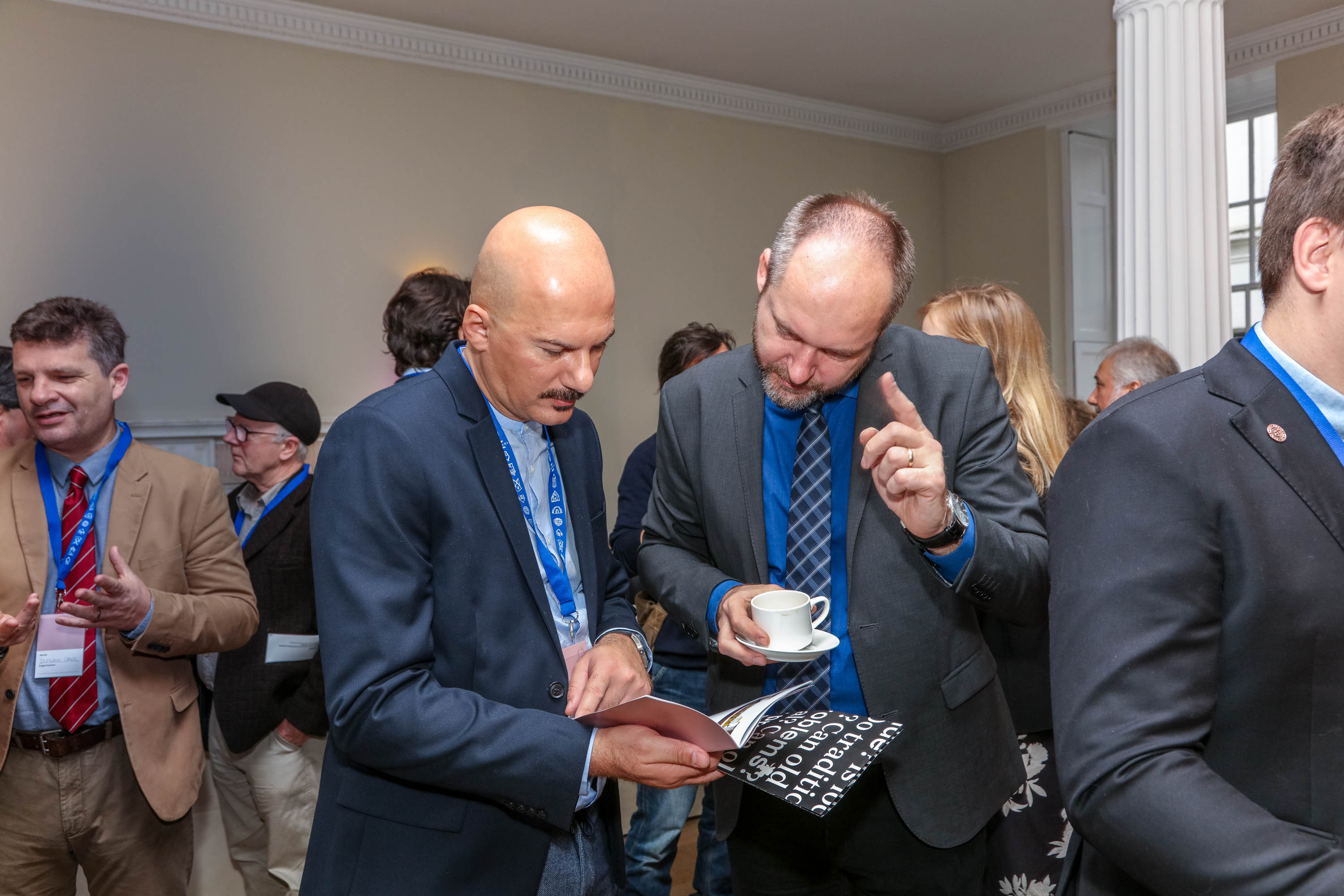 Michael Lykoudis, Dean of the School of Architecture at the University of Notre Dame, spoke about Neo-classical architecture in Greece. Despite focusing on national identity in a time of turmoil and economic austerity, Lykoudis began his presentation with anecdotes from his time in Greece as a child. It was an affirmation the places we live—our families live—follow us forever. Architecture is hardly ever just a design.
After Leidulf Mydland from the Norwegian Directorate for Cultural Heritage presented on the new Norwegian strategy for the management of urban heritage—which includes specialized zones within cities that impose stronger regulations for maintenance and preservation of heritage—Sandra Piesik spoke on traditional knowledge systems and global sustainability legislation. Her talk focused on content gleaned from her book HABITAT: Vernacular Architecture for a Changing Planet. Piesik discussed climate zones, the need for architecture that uses knowledge indigenous to its region, and created the perfect segue from Materials to Contexts.
SESSION 2: MATERIALS
The Materials session began with Anthony Thistleton, a founding director of Waugh Thistleton Architects, creators of the world's largest cross-laminated timber building. Known colloquially as 'CLT,' this material could be the next big thing in construction. Thistleton and his firm are passionate advocates for a "new timber age." Their angle is both practical and environmentally-conscious. Their recently completed project—Dalston Works in Hackney, London—will be carbon negative for the first few years of its use. Thistleton spoke on behalf of this lightweight, versatile material which allows for the prefabricated frame to be constructed offsite—just wood and glue—and delivered to the site. It was a reminder that responsible architecture should be more than in appearances.
Marianne Cusato, designer of the widely-known Katrina Cottage, a small residential shelter created in the wake of Hurricane Katrina, spoke after Thistleton. Cusato's design was based on traditional American architecture and, similarly to buildings made with CLT, made to be prefabricated or bought as a kit house. Her designs and design process look to maximise efficiency, resiliency, budget, beauty, and to create good places for people to live.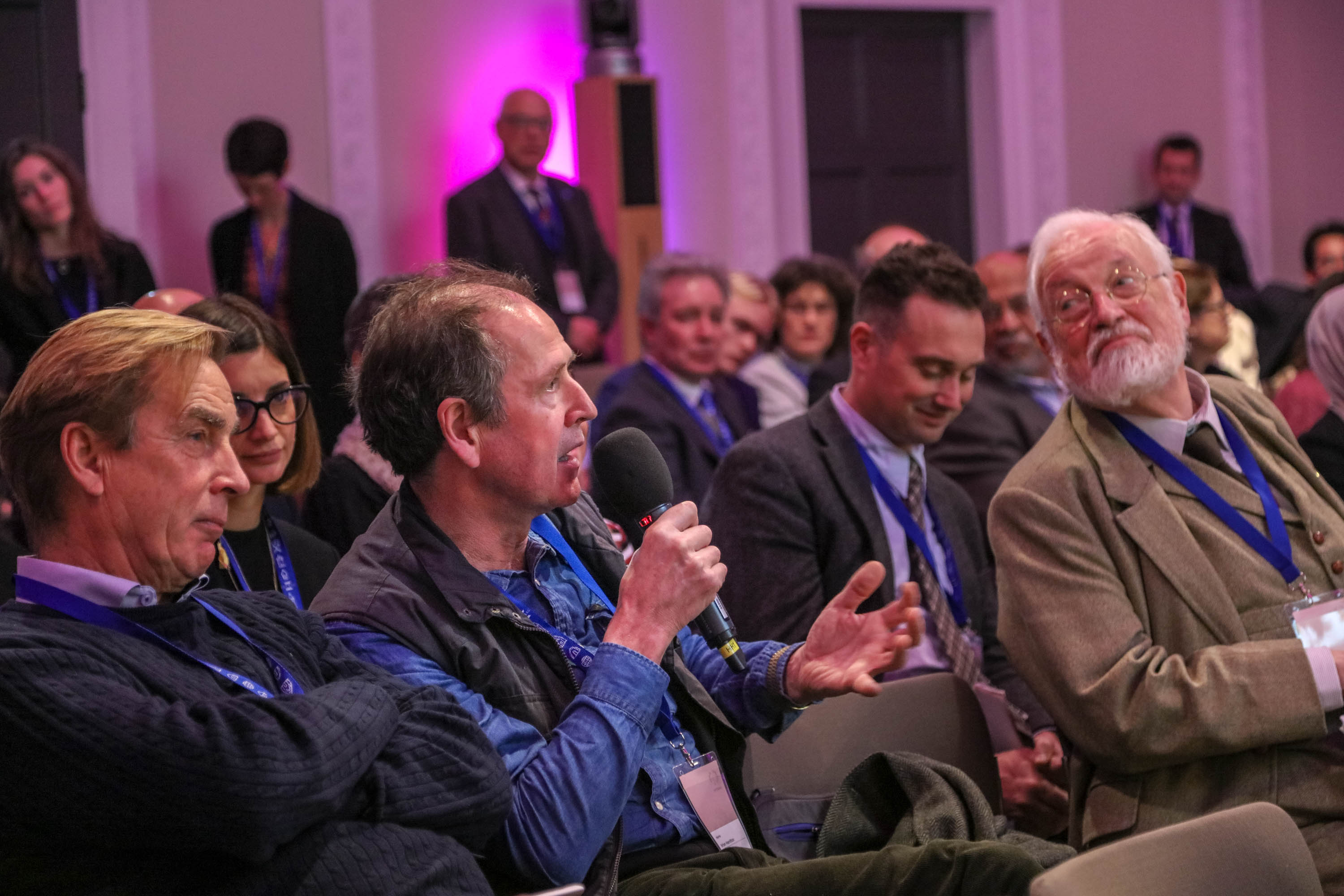 The afternoon continued as Alejandro García Hermida of INTBAU Spain took the stage. García Hermida spoke primarily about INTBAU Spain and the National Directory of Traditional Building Masters, a list of active practitioners in the fields of traditional construction and restoration who have mastered their crafts. It exists today as an online search engine that allows one to search their database via province and skills. Before, they had completed an overhaul of the previous directory, removing hundreds of previously listed people who were either inactive or not up to the required skill level, in addition to adding new masters. García Hermida's words rang with a sense of urgency for the preservation of these skills—ironworking, making roof shingles, tile-work—was intertwined with admiration and passion for these niche, but necessary fields.
The juxtaposition of prefabricated housing and the patient mastery of a single craftsman was a powerful one, one that showed up in the panel at the end of the materials session. These speakers reminded us that there is value in the ability to efficiently provide housing to the masses, and there is value in the weeks it takes to create an intricate tile design. We need innovation in the new, and preservation of the old, for it needs not advancement, but protection.
After a talk on the merits of earthen architecture from Nuria Sánchez Muñoz and Sébastien Moriset, both architects and researchers at CRAterre, there was a brief coffee break and once again the Benjamin Franklin room was filled with the buzzing of voices and the clinking of coffee cups on plates.
Opening up the second half of the Materials session was James Bugler, a master's student in architecture at the Royal College of Art. He presented an unexpected material: Plasma Rock. His angle is one of ecological conservation: there is so much land dedicated to landfills. This waste can be quarried, heated an incredibly high temperature, and the remaining substance can be dried and moulded, almost as if it were plaster. The material, dark in colour and versatile in use, was the centre point of Bugler's designs for a housing scheme. Walls, stairs, floors, and windows can all be made from Plasma Rock. In a session so heavily concentrated on traditional materials—earth, timber, bamboo—it was interesting for its uniqueness, but also its attention to the environment.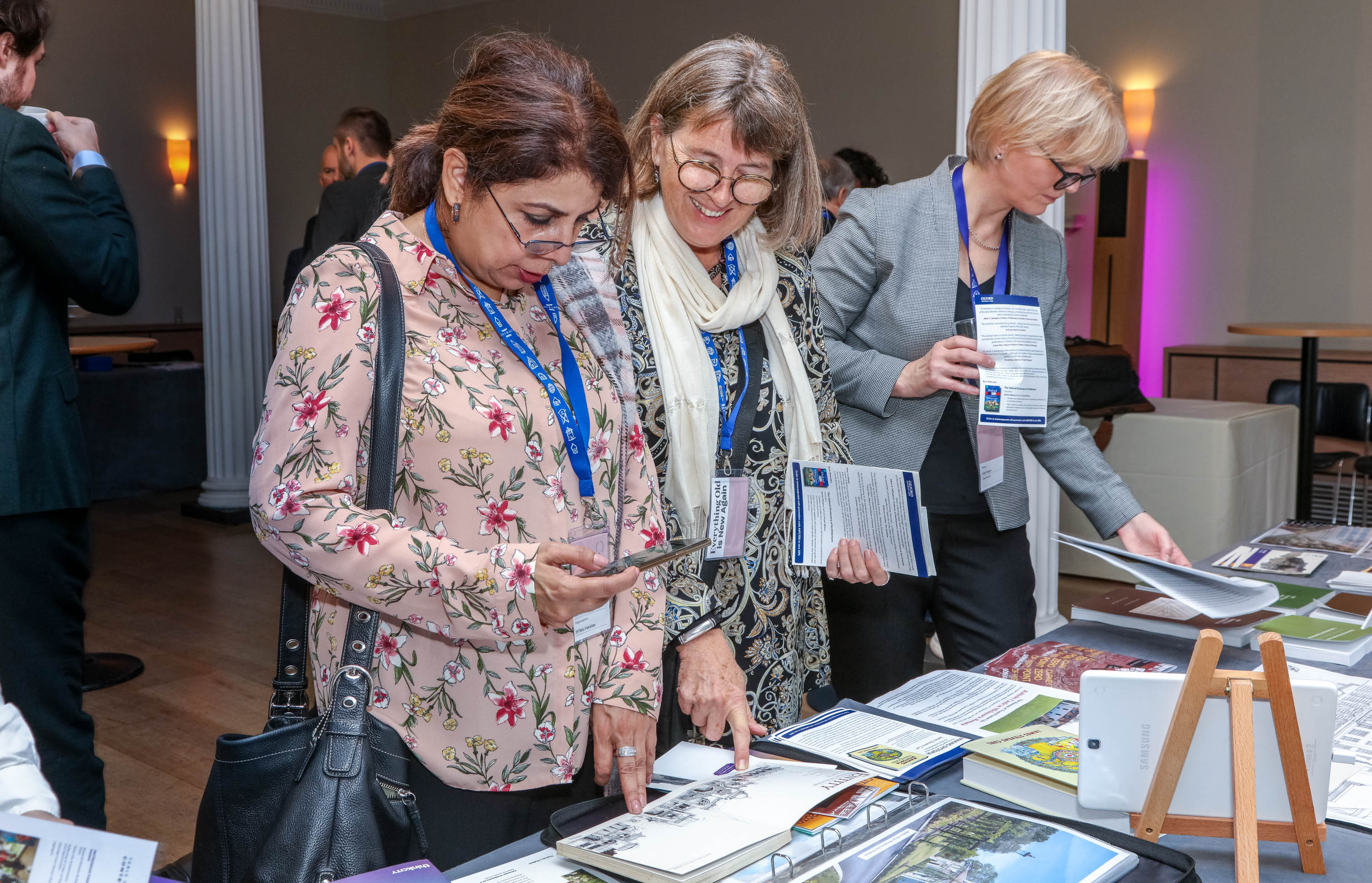 And last, of both the session and the day, was Yasmeen Lari, Fukuoka Prize laureate, architect, and co-founder of Heritage Foundation of Pakistan. Lari was the first woman architect in Pakistan, but, as she pointed out with a series of photographs, her work was not always bamboo and mud; glass and modernity were once her bread and butter. Yasmeen's work as co-founder of the Heritage Foundation of Pakistan begins with materials and ends with social and ecological justice. Her Lari Octagreen shelters are not only zero-carbon, but also stand up to high magnitude earthquakes. The chulahs, elevated cooking stoves for women, provide sanitary places to cook for women that keep her and her family safe, in addition to providing dignity and self-expression, as many of the women paint their chulahs. These programs also train women in craft skills, creating a ripple effect into communities with women at the epicentre of change, driven by their own empowerment. Yet, as Lari was careful to point out, the Foundation does not work in the way many traditional charities do, swooping in with cash and their own set of solutions. When a family needs an eco-toilet or an Octagreen shelter, they are trained in the skills to be involved in the building process. These skills translate for years after, allowing families to cultivate a new source of income. Yasmeen Lari and the Heritage Foundation of Pakistan's work is life-giving and responsible and joyful and brimming with longevity. Yasmeen calls her techniques 'barefoot,' and the name is appropriate, as the foundation's footprints will remain in these communities for generations to come.
Day 2
The cold of day one stepped aside, and London's signature weather began tapping on the windows, begging to be let inside, finding its way in via coats and umbrellas and shoes. With Contexts and Materials sessions under our belts, we were ready, coffee in hand, to step into session three: Identities. So as the rain beat down outside, we once again went down the well-beaten path of traditional architecture.
SESSION 3: IDENTITIES
The connectivity of contexts, materials, and identities isn't a mystery, but it felt ever-so tangible in the Identities session. First up was Phineas Harper of the Architecture Foundation. His presentation, entitled 'Wake up and smell the acanthus,' took a critical look at the intersection of traditional architecture Twitter accounts and alt-right politics. Harper's goal was not to critique aesthetics or defend tradition, but to issue a call to action: we must challenge those who see columns and classical architecture as a vehicle for white supremacy and dangerous alt-right politics. Harper himself said that "the public know what they like, and what they like generally has a cornice." With this, Harper also critiqued the demolition of brutalist housing estates, such as the Heygate Estate in South London: "Traditional architecture is now associated […] with ludicrously ineffective interventions in the name of taste." Harper's presentation was a reminder of the necessity of discernment within the complexities of architecture, as well as an urging to resist binaries in favour of a simplistic view of architecture that rests on skin-deep traditionalism.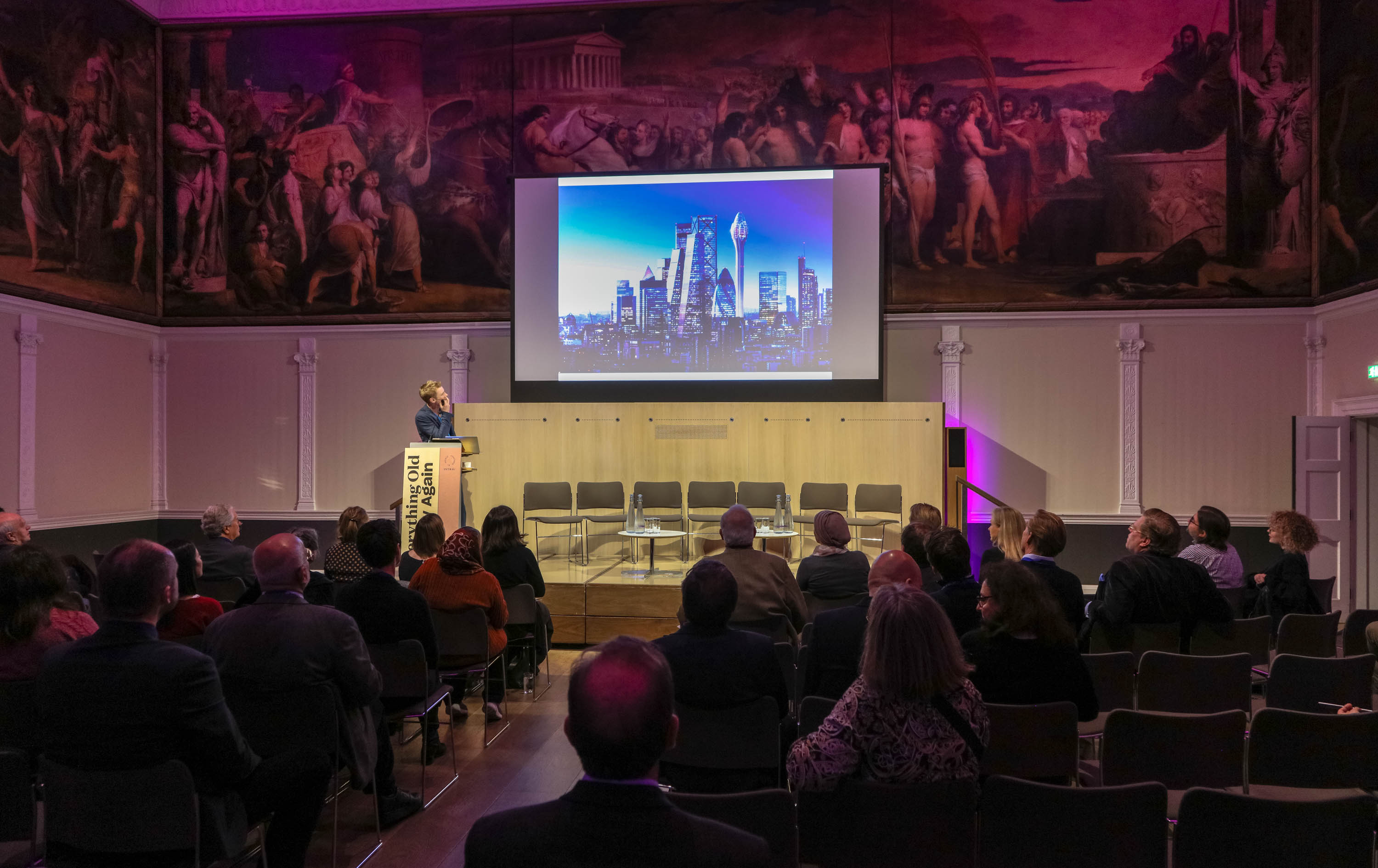 Following Harper was Anwar Jaber of the University of Cambridge Centre for Urban Conflicts. Her presentation, centred on Palestine, discussed architecture and national identity under conflict. In other words, how is a place's architecture and identity affected while under conflict? Jaber invoked the Yasser Arafat museum, built in the West Bank complex, as an example of the complicated relationship between place and identity—both of a space and the people who occupy it. Jaber said that the majority of the visitors to the museum are tourists; locals aren't as inclined to participate—the reasons, complex, but linked to the indelible memories that a building can hold.
Following Anwar Jaber was Sigvald Freylander and Marjo Uotila. Freylander is the chair of Arkitekturupproret (Sweden) and Uotila is the founder of Arkkitehtuurikapina (Finland). They are at the forefront of a movement known as the Architectural Uprising, and their goal is to raise public awareness regarding what they view as a degradation of the built environment due to modern architecture's growing presence in their cities. The central Arkitekturupproret Facebook page boasts over 10,000 likes and over 11,000 followers, with smaller satellite pages hosting even more members. As with any movement, one of the first steps is awareness, and this is exactly what the Architectural Uprising brings to the table.
After a brief break, we were back in the Great Room to hear from Sanketh P. Bharathish, 2018 recipient of the inaugural INTBAU Travel Scholarship, sponsored by Yiangou Architects. A masters student in architecture at the Srinivas School of architecture, he was awarded the scholarship in July and completed his research for presentation at the conference. Bharathish travelled to the coastal regions of South Canara, India to study Guttu Houses, century-old homes of landlords. As Sanketh explained, these houses carry generations of culture and tradition, but most are undocumented. He noted the incredible stone and wood craftsmanship which are not only aesthetically beautiful, but that tell stories of the past that reveal the hierarchy, proportions, identities, and economic status of those who lived in these homes. Bharathish was able to record multiple houses—one of which that was torn down shortly after documentation—and produce drawings and graphic models of the homes' various intricacies in construction and design.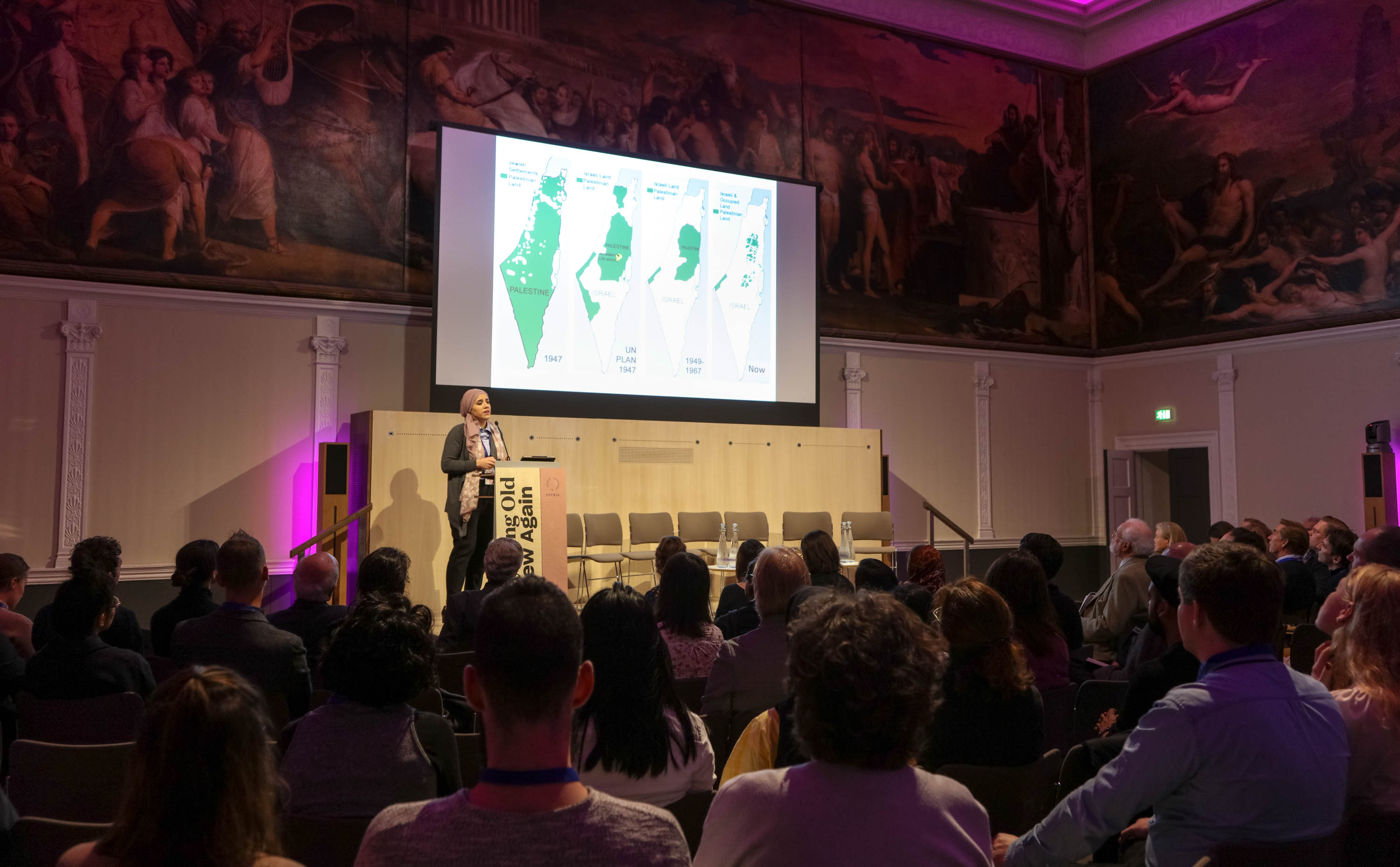 Following a talk from Philip Wood of the Aga Khan University on mosques in Britain, Giamila Quattrone, founding member and project coordinator ArCHIAM (Architecture and Cultural Heritage of India, Arabia, and the Maghreb), spoke on the restoration at Misfat al-Abriyin in Oman. They both presented work from an academic perspective, acting as valuable complements to the broader conceptual or physically technical presentations we'd heard throughout the congress. Wood, being an associate professor at the Institute for the Study of Muslim Civilisations, was able to draw from research on the architectural history and present-day perceptions of mosques and present an argument for openness in community and in the physical spaces of the mosques themselves. Quattrone, based at the University of Liverpool School of Architecture, went in-depth on how nurturing identities and empowering communities can be achieved through adaptive reuse of space.
And, finally, our last speaker was Sean Griffiths, formerly of FAT (Fashion Architecture Taste), and now practising under the name 'Modern Architect,' as well as teaching at the University of Westminster. Griffith's presentation asked a single question: What is the nature of a natural material? He endeavoured not to question timber or mud's qualifications, but, rather, the definition itself, as to allow for a more generous usage that eliminates potentially elitist barriers. We went from discussing the functionality of materials to discussing the identity of the materials, so to speak. In his own words, "The use of the term 'natural' is not innocent. There is a blurred line between artificial and the natural." Griffiths gave examples of newer materials that, while technically 'natural,' lack a traditional appearance, as, for example, manifested in their bright colours. One example, particularly striking, was a building material made out of fungus. This material is low-energy and zero-carbon, ticking sustainability boxes for which Griffiths was advocating. His words were not critique alone, but also as an encouragement to architects and designers, as if to say: Let's just give this a try.
Following the Identities session, the 2018 INTBAU Excellence Awards were held in the Great Room, honouring the winners and presenting awards. You can read more about the winners and their projects here. You can see images of the projects here.
CONCLUSIONS
The temptation to draw broad, sweeping conclusions is present, but gives way to something more pertinent: The World Congress was guided by a series of #difficultquestions: Is local better than global? Is global better than local? Do traditions unite or divide? Can old solutions solve new problems? Answers to these questions were peppered across debate and panel discussions and in presentations. Congress attendees even received a #difficultquestions pamphlet with info-graphics displaying information gathered in an online survey. We asked our network of over 30 chapters and 6,000 members to share their thoughts on some of the questions and ideas raised by this year's Congress themes. The questions gave way to data, but data leads to more discussion, to more questions. ­
You can view the #difficultquestions pamphlet here: Click Here
The question is, arguably, central to research, to design, and creation. Who is this for? What do they need? What do they want? What style? What material? How tall? It is far easier to agree on the question than agree on the answer. One thing we know is that the places we live are central to who we are. They—we—are worth more than quick, rigid answers, for there is patience in a question. So, as we continue to ask, to wonder, and to create, let us be willing to ask questions. Let us be willing to hear questions posed by others—our peers or otherwise. Let us not rush to answer, but to listen. There are so many good questions: Why do we build? Why do we gather? How can we be more responsible—in both the short term and the long term? Despite the inevitable distance—whether between ideas or places—connections were made. The chatter over coffee was just as important as the panels and the presentations. INTBAU's goal of making positive change is spurred by conversations that lead to plans that lead to action. What is action if not an answer to a question, a what if? Because when we connect, we can work towards answers. And the 2018 INTBAU World Congress was no exception.