Following previous Annual Events in Cyprus in 2013 and Poland in 2014, this year's series was organised by INTBAU Cuba, and consisted of an architectural study tour, a conference, and an urban design workshop or 'charrette'.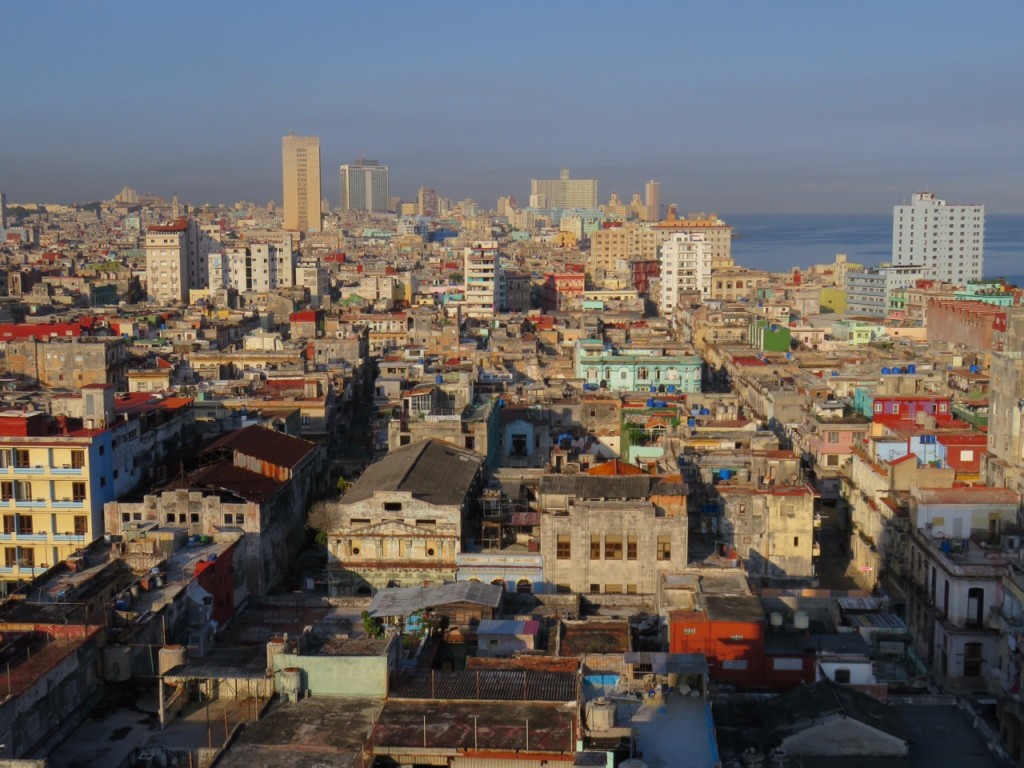 INTBAU Cuba's chair, architect and scholar Julio Cesar Perez Hernandez, led the study tour which gave insight into Havana's origins and development, while also questioning what a post-embargo future might hold for the city. The first day focused on Habana Vieja, looking at the traditional patterns of streets and squares, and exploring the building techniques that were adapted to create a unique aesthetic with interiors being kept as cool as possible. The restoration work that UNESCO funding has made possible in this part of Havana was also viewed, both in progress and in completed form.
On the second day of the tour, 'The Walls' district around Havana's Capitolio was explored. The tour finished with a walk around the Vedado area, which includes the university and a number of famous hotels. Julio Cesar drew participants' attention to Vedado's urban plan, rotated at 45 degrees to capture the best sea breezes.
The conference opened with a reception at the Ambos Mundos Hotel, followed by a special performance from the world-renowned Camerata Romeu . During the conference's formal proceedings, speakers from all five continents brought case studies from their own experience of built heritage needing to respond to the pressures of development and rapid urbanisation. See below for a full list of conference speakers and affiliations.
Annual Events concluded with a four-day charrette, where attendees joined with Cuban experts and local residents to develop proposals for the regeneration and development of parts of the UNESCO-listed Habana Vieja. This work follows on from work completed during other charrettes led by INTBAU Cuba over the past eight years.
These were important events that gave attendees unique insight into Havana's past, present, and potential futures.
'Connecting with colleagues from around the world – each working to make their hometowns a little more beautiful, a little more sustainable, a little more humane – was both productive, and uplifting.  And with Havana spurring our inspirations, we shared ideas and planned collaborations that will amplify the effects of each others efforts'  Jenny Bevan of Bevan & Liberatos, speaker and attendee.
We will shortly be announcing plans for the next series of INTBAU Annual Events, and hope to see you there!
Speakers from the conference:
Keynote Address: Professor Robert Adam, INTBAU UK
John Thompson, Academy of Urbanism
Tony Reddy Academy of Urbanism
Rodney M. Cook, The National Monuments Foundation
Alejandro Hartmann, Historian of Baracoa, Cuba
PANEL DISCUSSION: Moderator Ettore Mazzola
Michael Mehaffy, INTBAU USA
Omar Lopez, Historian of Santiago de Cuba
Ettore Mazzola, Academy of Notre Dame in Rome
Reinaldo Borges, Borges Architects
Deependra Prashad, INTBAU India
Jim Friedlander, President of Academic Arrangements Abroad
PANEL DISCUSSION: Moderator Julio Cesar Perez
Joe Cronk, Cliff Duch, ICAA Florida
Jenny Bevan, Chris Liberatos, Bevan & Liberatos
Esther da Costa Meyer, Princeton University, USA
Joanna Alimanestianu
Torbjorn Einnarsson, ARKEN Sweden
Ricardo Sanchez, INTBAU Colombia
PANEL DISCUSSION: Moderator Michael Mehaffy
John Pilling, Boston Architectural College, USA
Regula Modlich, Canada
Ramon Recondo, Architect, Matanzas, Cuba
Terri Sweeney, Dublin Office of Public Works
Brian Hamilton, INTBAU Ireland
Ned Kauffman
Stephen Waite, heritage lime expert
PANEL DISCUSSION: Moderator Regula Modlich
Introduction to morning session J. C. Perez UNEAC Cuba
Erin Alexander, USA
Anthony James, USA
Audun Engh, INTBAU Scandinavia
Trevor Boddy, Vancouver, Canada
Behiri Abdelkader, EPAU, Algiers, Algeria
PANEL DISCUSSION: Moderator Nir Buras
Fatima Jobe, UK
Noha Alamadi, University of Westminster, UK
David Black, Edinburgh, Scotland
Orestes del Castillo, Cuba
Nir Buras, Washington DC, USA
Iran Millan, Cienfuegos, Cuba
PANEL DISCUSSION: Moderator Robert Adam