Richard H. Driehaus passed away on 9 March 2021 in Chicago. An INTBAU trustee and steadfast advocate of traditional architecture and urbanism, his generosity created a legacy of buildings designed, places enhanced, scholarship encouraged, and connections between practitioners and people established.
It is in no small part thanks to Richard's visionary support that INTBAU has grown from a small handful of chapters and members to a global network of 35 chapters and nearly 8,000 members. This growth in numbers has been accompanied by workshops, summer schools, scholarships, awards, conferences, articles, and research – all with tangible and lasting benefit.
Richard was a philanthropist in the truest sense. His own greatest enjoyment seemed to come from providing opportunity, fulfilment, and (importantly) fun to others. He believed in the wide range of causes he supported. One of those closest to his heart was the built environment, which led him to found the Driehaus Prize and Henry Hope Reed Award, as well as the Manzano Prize for Spain and Portugal, and the Richard H. Driehaus Architecture Competition and Building Arts Awards – of which INTBAU is proud to be an organising partner. Our Royal Founding Patron, HRH The Prince of Wales, presented Richard with an award for his efforts in support of INTBAU's mission in 2015.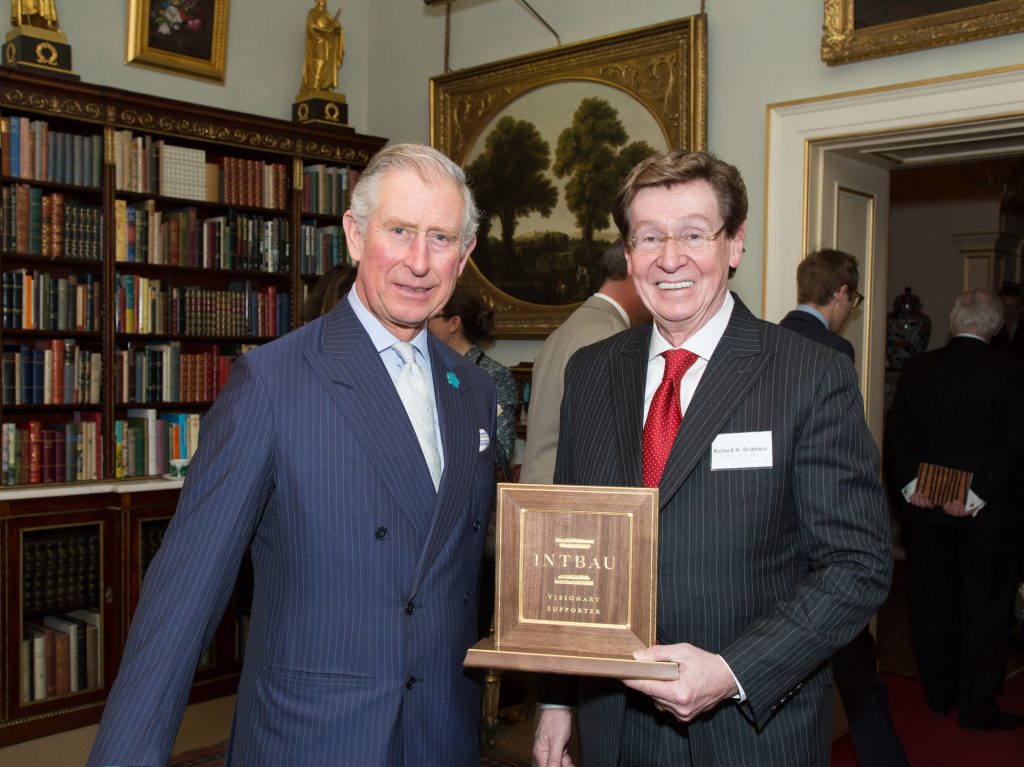 Richard had a deep appreciation for the built heritage of his native Chicago, and of so many other cities, towns, and villages across the world. He also firmly believed in the ability of today's practitioners to continue these building traditions, for the creation of beautiful and durable places for people to live.
As a small mark of our profound gratitude to Richard for his vision and generosity, INTBAU will name an annual educational bursary 'The Richard H. Driehaus Scholarship'.
The full extent and significance of Richard's legacy is greater than he himself could have known. A growing number of tributes online add more perspectives to ours.
– Notre Dame https://architecture.nd.edu/news-events/news/in-memoriam-richard-h-driehaus/
– Driehaus Capital Management https://www.driehaus.com/about/richard-driehaus
– The Institute of Classical Architecture and Art https://www.classicist.org/articles/in-memory-of-richard-driehaus/
– INTBAU Spain https://intbauspain.com/en/architecture/richard-h-driehaus/