Pollica (Salerno, Italy), 23-27 October 2015
INTBAU Italy is promoting a design workshop dedicated to living traditions and smart growth.  The project is supporting local communities to govern changes and to bring the right people together for a long-lasting wellness and best practices dissemination.
In 2013 the Unesco Intergovernmental Committee for the Safeguarding of the Intangible Cultural Heritage inscribed The Mediterranean Diet, nominated by Spain, Greece, Italy (Pollica and its territory) and Morocco, on the Representative List of the Intangible Cultural Heritage of Humanity.
The Mediterranean Diet, where diet in Greek means way of life, is assumed as a paradigmatic knowledge continuously inspiring practices that affect the agrarian and urban landscape, the ways of socializing and food culture and production too.
The design charrette will include many on site actions, observational drawing, place mapping, visualizing landscape values, site documentation, urban infill projects, rehabilitation proposals in order to make communities and people able to create sustainable and efficient places where beauty could be settled in different forms and at diverse scales.
The workshop is open to everybody interested about design for places and smart growth: measured drawing, agrarian urbanism, environmental design, architecture, sustainable technologies, color design, food culture, smart cities.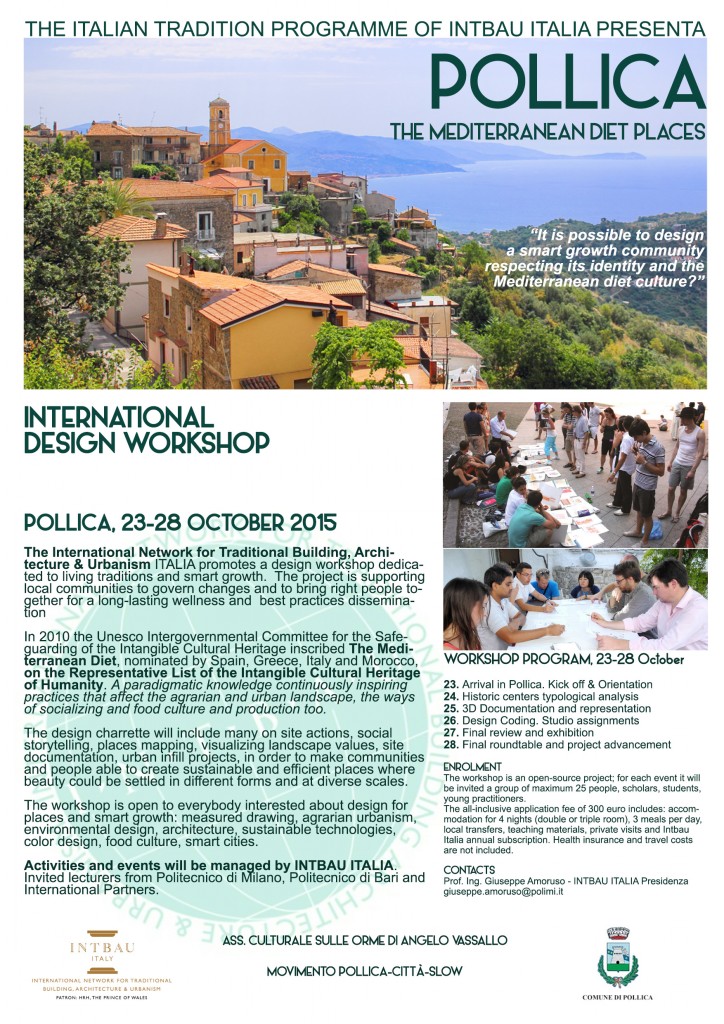 Activities and events will be managed by INTBAU ITALIA.
Lecturers from Politecnico di Milano, Politecnico di Bari and International Partners.
Promoters
INTBAU ITALIA, Sulle orme di Angelo Vassallo Charity, Pollica-città-slow Movement
Patronage
Comune di Pollica (Salerno) and Città Slow Movement
WORKSHOP PROGRAM: 23-27 October 2015
23. Arrival in Pollica. Kick off & Orientation
24. Historic centres typological analysis, observational drawing, graphic assignment.
25. 3D Documentation, modelling and digital representation
26. Design Coding. Colour palette and pattern book
27. Final review and exhibition
ENROLMENT:
The application fee of 300 euro includes: accommodation for 4 nights (double or triple room), 3 meals per day, local transfers, teaching materials, private visits and INTBAU Italia annual subscription. Extra night, 60 euro. Health insurance and travel costs are not included. The fee is not reimbursable.
Pollica is reachable from Rome, travelling with the Freccia Rossa train to Salerno and from Salerno to Vallo della Lucania with a Regional train.
To take part in this design workshop please email Giuseppe Amoruso to request an application form: giuseppe.amoruso@polimi.it
CONTACTS
Prof. Ing. Giuseppe Amoruso – Chair, Politecnico di Milano – Dipartimento di Design: giuseppe.amoruso@polimi.it