2018 RICHARD H. DRIEHAUS BUILDING ARTS AWARDS
The Richard H. Driehaus Building Arts Awards are awarded in Spain to the main masters in the diverse traditional building crafts, those who have stood out in preserving and keeping them alive.
The traditional building works have been grouped into four categories for these prizes, each of which was awarded a €10,000 award and a commemorative plaque. Eighty-four proposals were received for these categories. The categories included brick and masonry work; woodwork; tile and mosaic work; and traditional metal and glass works.
RICHARD H. DRIEHAUS ARCHITECTURE COMPETITION 2017-2018
The Richard H. Driehaus Architecture Competition is an international competition created to help preserve and revive the use of local architectural traditions. It awards and promotes proposals upholding local architectural traditions, creating a sense of place, and contributing to making more beautiful, coherent, sustainable, and socially integrated towns.
The competition was conducted in two stages. In the first phase, municipalities throughout Spain were invited to submit possible topics and sites for the competition. Twenty-three proposals were received for this phase. In the second stage of the competition, an international stage, architects from anywhere in the world were encouraged to submit architectural and urban design proposals for any of the four sites that had been selected: Baza, Borox, Jaca, and Trujillo. A total of seventy-four design proposals were submitted.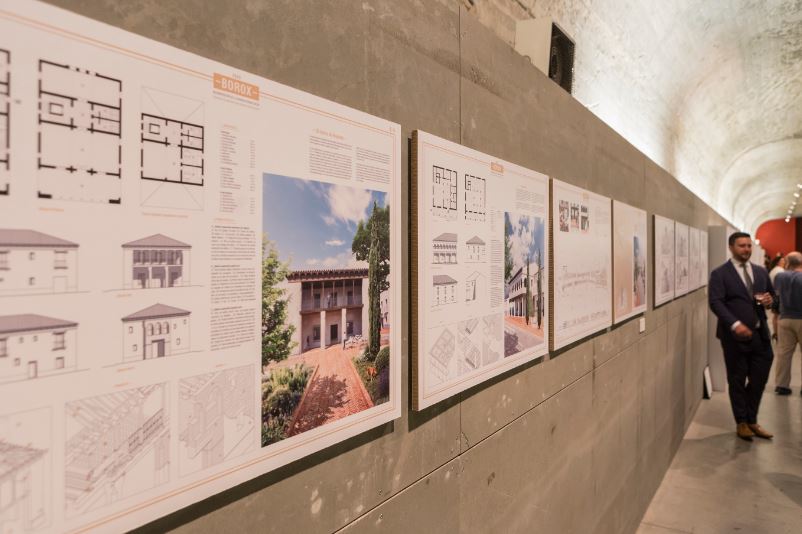 ---
These awards are annually organized by INTBAU, thanks to the support of the Richard H. Driehaus Charitable Lead Trust, through a contribution to the Chicago Community Foundation for the Richard H. Driehaus Charitable Fund, with the collaboration of the Department of Building and Architecture of the Ministry of Public Works and Infrastructure, the Department of Fine Arts and Cultural Heritage of the Ministry of Education, Culture and Sports, the Rafael Manzano Prize for New Traditional Architecture, and the Council of Architecture Institutes of Spain.
---
CEREMONY
On June 13th, 2018, the International Richard H: Driehaus Architecture Competition and the Building Arts Awards were presented during a ceremony led by Richard H. Driehaus, Harriet Wennberg (Executive Director of INTBAU,) and representatives from the Spanish Ministries of Development and Culture, and the Higher Council of Architects of Spain.
Buildings Arts Construction prizes were awarded first. These awards were created to recover endangered trades, without which the long-term preservation of heritage is imperiled.
Awards to artists were given in four different categories: Enric Plá Montferrer, for his ironwork on La Sagrada Familia; Fátima Quesada, for her Nazari tilework mosaics; Valeriano Jaurrieta, for his stonework for the main monuments in Navarre; and Luciano Ramírez, Fernando Alanis, and Juan de Dios García, from Carpintería Los Tres Juanes, for their coffered ceilings and other carpentry works.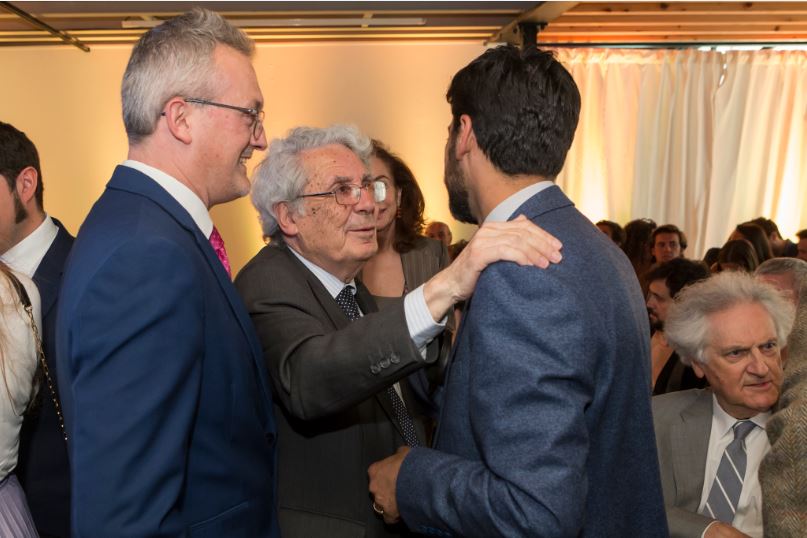 After that, the Driehaus International Architecture Competition awards were presented. These awards were created to help recover threatened areas of high heritage value in various Spanish towns. This year, Borox, Trujillo, Baza, and Jaca were selected in phase one of the competition. This initiative provided a great opportunity for many cities that have been previously unable to rehabilitate their architectural spaces. In phase two, the architecture firms with the best proposals for the rehabilitation of these cities were selected for awards.
U.S. architects Matthew Blumenthal and Patrick Alles received an award for a project that transformed the senior day center and the municipal library of Borox. Basque architects, Imanol Iparraguirre and Artiz Díez, received an award for their proposal to rearrange the spaces around El Convento de La Coria in Trujillo. Architects Estefanía Fernández-Cid, Xavier and Lucía Espinós, and Rodrigo Toro received an award for their proposal to recover the cloister of El Convento de San Jerónimo and El Palacio de los Enríquez in the town of Baza. Finally, Seville-based architects Abelardo Linares del Castillo and Elena Jiménez received an award for their project to create a new Plaza Mayor square in Jaca.
In the words of Richard H. Driehaus, 'a sustainable city is only possible if the work that artisans and architects, knowledgeable in traditional construction, carry out to preserve the places where we live, is recognized. Protecting our legacy improves our sense of belonging to a place and promotes integration and civic conscience.'
After the ceremony, the exhibition, New Traditional Architecture MMXVIII, was officially opened. This exhibition displays the winning projects of the International Architecture Competition and some of the pieces from the winning construction masters of the Building Arts Awards. The exhibition will be open to the public from June 14, 2018 to July 26, 2019 at the Arches of the Nuevos Ministerios.
For more information regarding the 2017-2018 Richard H. Driehaus Architecture Competition and the Building Arts Awards Click Here