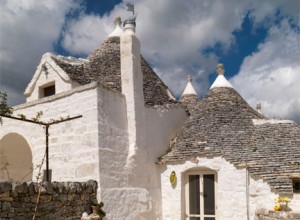 From 7-14 September 2013, INTBAU Italy held a summer school in Cisternino to examine the traditional building, architecture, and countryside of Puglia through a charrette and workshop.
The purpose of the programme was to become familiar with the diverse art, history, design, and also the traditional architecture and countryside of Puglia and the ancient Itria Valley, a series of settlements founded in the 11th Century.
Participants were immersed in the making of a traditional Mediterranean city according to local building and planning traditions. The study area was characterised by the "trulli" building typology. These UNESCO-listed structures are limestone dwellings employing drywall construction: a prehistoric building technique still in use in this part of Italy.
Visits to work sites, on-site lectures by master builders, and design reviews were part of the programme, both in the area of Cisternino and of Ostuni. The charrette produced, through a drawing and design studio, an urban planning and schematic architectural design based on a detailed survey of the rural settlement, Contrada (of Tumbinno, in the Locorotondo area). Beginning with an understanding of landscape features, the process of making places focused on site analysis and the preparation of a pattern book for site-specific urban design and architectural coding.
The course also taught participants about environmental practices that are part of the foundation of the Mediterranean culture. Studio activities exposed participants to heritage regeneration, building skills issues, traditional practices of interior design, art and craft, and vernacular patterns.
INTBAU Italy has prepared a video documenting the event in pictures.
The BBC has also recently posted an article on the current surge in the popularity of trulli with holiday-makers in Italy.
INTBAU Italy is planning to hold a follow-up event next year. Check back here for further details!